I'm New Here
"Therefore welcome one another as Christ has welcomed you, for the glory of God." – Romans 15:7
Welcome to Grace Christian Fellowship
Our focus at Grace is to love, grow, and go. By love, we mean a love for God and neighbor. By grow, we are focusing on our relationship with God and others. By go, we mean reaching out to and serving our community.
WHAT TIME DOES THE SERVICE START?
Our Sunday morning worship service starts at 10:00 AM and usually ends between 11:15 AM and 11:30 AM.
HOW DO I GET TO YOUR CHURCH?
7325 N Bank St, Portland, OR 97203 |
Map
Please call 503.286.2085 if you need help finding us.
FOR THOSE WITH YOUTH & CHILDREN
We have several options for families with children.
The Nursery, for children up through preschool, will be available right after the opening worship segment of our service (around 10:30).
Children (K-5th grade) will be dismissed from the main sanctuary for Children's Church right before the sermon (around 10:35).
Our Family Worship Room is also available upstairs for nursing mothers and parents who want to remain with their active children and still be able to see and hear what is happening in the service.
Please feel free to take advantage of these opportunities and/or keep your children with you.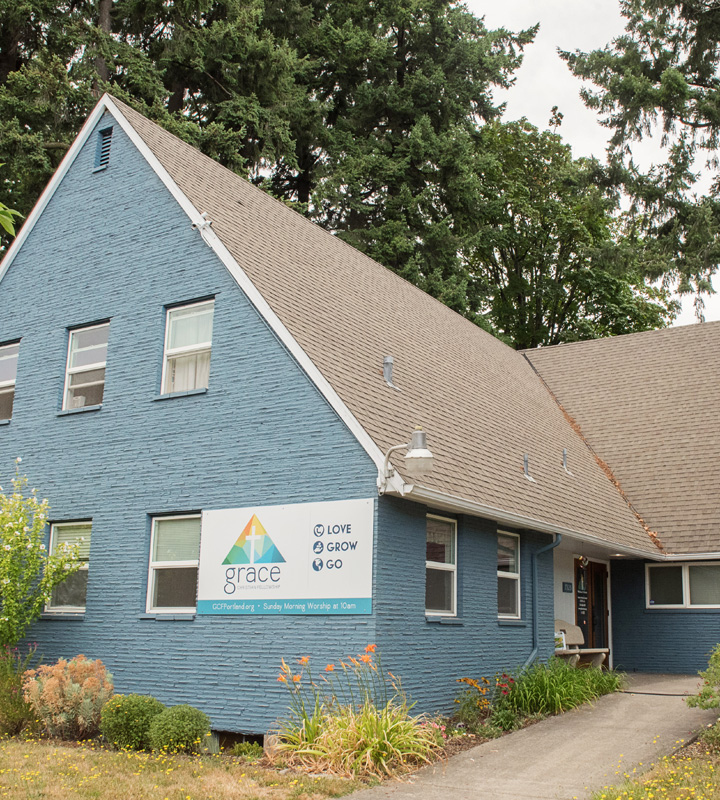 Hello and welcome to the Grace Christian Fellowship website. If you have any questions after looking around, please feel free to contact me personally. I would love to begin a dialogue with you about your spiritual journey or simply give you more information about our fellowship.
At Grace, we welcome you to explore and grow in your faith. We are a "come as you are" kind of church. You do not have to dress a certain way or even act a certain way to be welcomed. We understand that everyone is at a unique place in their spiritual journey, so whether you are simply curious or have been a follower of Christ for many years, we invite you to join us as we grow in our relationship with God and one another.
Our focus at Grace is to love, grow, and go. By love, we mean a love for God and neighbor. By grow, we are focusing on our relationship with God and others. By go, we mean reaching out to and serving our community.
 We are glad you stopped by and hope to have the opportunity to meet you in the near future.
Contact us at – graceadministry@gmail.com
WHAT WE BELIEVE
"'Love the Lord your God with all your heart and with all your soul and with all your mind.' This is the first and greatest commandment. And the second is like it: 'Love your neighbor as yourself.' All the Law and the Prophets hang on these two commandments." – Matthew 22:37-40
God created us and loves us
"Long before he laid down earth's foundations, he had us in mind, had settled on us as the focus of his love, to be made whole and holy by his love. Long, long ago he decided to adopt us into his family through Jesus Christ. What pleasure he took in planning this!"
(Ephesians 1:4-5, The Message Bible) 
God wants us to enjoy a personal relationship with him
"My purpose is to give life in all its fullness." (John 10:10, NLT)
We don't always follow God
"For all have sinned; all fall short of God's glorious standard." (Romans 3:23, NLT)
Our lives get messed up…
"There is a path before each person that seems right, but it ends in death." (Proverbs 16:25, NLT)
…and we get separated from God
"Listen! The Lord is not too weak to save you, and he is not becoming deaf. He can hear you when you call. But there is a problem – your sins have cut you off from God." (Isaiah 59:1-2, NLT)
God became the solution
God "wants everyone to be saved and to understand the truth. For there is only one God and one Mediator who can reconcile God and people. He is the man Christ Jesus. He gave his life to purchase freedom for everyone." (1 Timothy 2:4-6)
He wants us to admit a few things
"If we say we have no sin, we are only fooling ourselves and refusing to accept the truth. But if we confess our sins to him, he is faithful and just to forgive us and to cleanse us from every wrong." (1 John 1:8-9, NLT)
God wants us to turn away from wrong and turn toward him
"Now turn from your sins and turn to God, so you can be cleansed of your sins." (Acts 3:19, NLT)
God wants us to trust him as the solution
"For if you confess with your mouth that Jesus is Lord and believe in your heart that God raised him from the dead, you will be saved." (Romans 10:9, NLT)
"There is salvation in no one else! There is no other name in all of heaven for people to call on to save them." (Acts 4:12)
God wants us to accept an incredible gift
"God saved you by his special favor when you believed. And you can't take credit for this; it is a gift from God. Salvation is not a reward for the good things we have done, so none of us can boast about it." (Ephesians 2:8-9, NLT)
"…to all who believed him and accepted him, he gave the right to become children of God." (John 1:12-13, NLT)
God wants us to love him and others
"'You must love the Lord your God with all your heart, all your soul, and all your mind.' This is the first and greatest commandment. A second is equally important: 'Love your neighbor as yourself.' All the other commandments and all the demands of the prophets are based on these two commandments." (Matthew 22:37-40)
Our Guiding Principles
In essential beliefs—we have unity "There is one Body and one Spirit—just as you were called to one hope when you were called—there is one body, one faith, one baptism, and one God and Father of us all" (Ephesians 4:4-6, NIV)
In non-essential beliefs—we have liberty "Accept him whose faith is weak, without passing judgment on disputable matters. Who are you to judge someone else's servant? To his own master he stands or falls. So then each of us will give an account of himself to God. So whatever you believe about these things keep between yourself and God." (Romans 14:1, 4, 12, 22, NIV)
In all our beliefs—we show love "If I had the gift of foretelling the future and had in my mind not only all human knowledge but the secrets of God, and if, in addition, I had that absolute faith which can move mountains, but had no love, I tell you I should amount to nothing at all." (1 Corinthians 13:2, Ph)
The Essentials We Believe
About God
God is the Creator and Ruler of the universe. He has eternally existed in three personalities: The Father, the Son, and the Holy Spirit. These three are co-equal and are one God.

Genesis 1:1-2; Exodus 3:13-15; 2 Corinthians 13:14

About Jesus Christ
Jesus Christ is the Son of God. In Him, the deity of God and the humanity of man is joined together. Jesus lived a sinless human life and offered Himself as the perfect sacrifice for the sins of all people by dying on a cross. After three days, He arose from the dead to demonstrate His power over sin and death. He ascended to Heaven's glory. He is the One and only Mediator between God and man. Someday He will return again to earth to reign as King of Kings and Lord of Lords.

Matthew 28:19; John 4:24; 16:7, 8; Romans 8:9,14-16; 2 Corinthians 3:17-18; Acts 5:3-4; 1 Corinthians 12:4-7; 1 Timothy 2:5

About the Holy Spirit
The Holy Spirit is present in the world to make us aware of our need for Jesus Christ. The Spirit also lives in every Christian from the moment of salvation and provides the Christian with power for living, understanding of spiritual truth, and guidance in doing what is right. The Holy Spirit gives believers spiritual gifts as He determines. As Christians we seek to live under the control of the Holy Spirit daily. The Holy Spirit also endues us with supernatural power for ministry (sometimes called the baptism of the Holy Spirit) and enables us to live a holy life.

2 Corinthians 3:17; John 16:7-13; Acts 1:8; Ephesians 1:13; Galatians 5:25; Ephesians 5:18; 1 Corinthians 12

About the Bible
The Bible is God's written word, uniquely inspired by the Holy Spirit. It bears unerring witness to Jesus Christ, the living Word. As attested by the early church and subsequent councils, it is the trustworthy record of God's revelation, completely truthful in all it affirms. It has been faithfully preserved and proves itself true in human experience.

The Scriptures have come to us through human authors who wrote, as God moved them, in the languages and literary forms of their times. God continues, by the illumination of the Holy Spirit, to speak through this word to each generation and culture.

The Bible has authority over all human life. It teaches the truth about God, His creation, His people, His one and only Son, and the destiny of all humanity. It also teaches the way of salvation and the life of faith.

Whatever is not found in the Bible or cannot be proved by it is not to be required as an article of belief or as necessary to salvation.

Deuteronomy 4:2; Psalm 19:7-11; Romans 15:4; Hebrews 4:12; James 1:21

About Human Beings
God created us in His own image, innocent, morally free and responsible to choose between good and evil, right and wrong. By the sin of Adam, we as the offspring of Adam are corrupted in our very nature so that from birth we are inclined to sin. We are unable by our own strength and work to restore ourselves to right relationship with God and to merit eternal salvation. God, the Omnipotent, provides all the resources of the Trinity to make it possible for us to respond to His grace through faith in Jesus Christ as Savior and Lord. By God's grace and help we are enabled to do good works with a free will.

Genesis 1:27; Psalm 51:5; 130:3; Romans 5:17-19; Ephesians 2:8-10

About Salvation
Salvation is God's free gift to us but we must accept it. We can never make up for our sin by self-improvement or good works. Only by trusting in Jesus Christ as God's means of forgiveness can anyone be saved from sin's penalty. When we turn from our self-ruled life and turn to Jesus in faith we are saved. Eternal life begins the moment one receives Jesus Christ into his or her life by faith.

Luke 24:46-48; John 3:16; Romans 5:8-11; Ephesians 1:7-8;2:13; Hebrews 9:11-14

About Eternity
People were created to exist forever. We will either exist eternally separated from God by sin, or eternally with God through forgiveness and salvation. To be eternally separated from God is Hell. To be eternally in union with Him is eternal life. Heaven and Hell are real places of eternal existence.

John 3:16; 14:17; Romans 6:23; 8:17-18; Revelation 20:15; 1 Corinthians 2:7-9

About the Law of Life and Love
God's law for all human life, personal and social is expressed in two divine commands: Love the Lord God with all your heart, and love your neighbor as yourself. These commands reveal what is best for people in their relationship with God, persons and society. They set forth the principles of human duty in both individual and social action. All people are created by God and in His image have the same inherent rights regardless of sex, race, or color. People should therefore give God absolute obedience in their individual, social and personal acts. We should strive to secure respect for all people.

Matthew 23:35-40; John 15:17; Galatians 3:28; 1 John 4:19-21
Our Lifestyle Statements: What We Practice
Beliefs are not worth much unless they are translated into actions. At Grace Christian Fellowship we strongly affirm the following regarding Christian living:
We Accept the Bible as Our Unerring Authority

"All scripture is God-breathed and is useful for teaching, rebuking, correcting and training in righteousness." ( 2 Timothy 3:15, NIV)

The Bible is the key to our understanding of God, our relationship with Him, and how we are to live our lives. We practice personal and group study of the scriptures.

We All Minister in God's Kingdom

"He (Christ) has gathered us into his kingdom and made us priests of God his Father." (Revelation 1:6, TLB)

"But you are the ones chosen by God, chosen for the high calling of priestly work, chosen to be a holy people, God's instruments to do his work and speak out for him, to tell others of the night-and-day difference he made for you." (1 Peter 2:9, TM)

The Bible teaches that every Christian is called to "full-time" Christian service, regardless of his or her vocation. We practice the truth that every believer is a minister by encouraging every member to find a place of service and ministry. Every believer can communicate directly with God through prayer and Bible reading.

We Give Financially to the Lord's Work

"A tithe of everything…belongs to the Lord; it is holy to the Lord." (Leviticus 27:30, NIV)

"Share with God's people who are in need." (Romans 12:13, NIV)

We practice giving for the support of Christ's Body, the church, as God commands. We affirm that scripture calls believers to commit themselves to a pattern of giving that includes regular contributions as well as spontaneous offerings for special reasons.

We Practice the Spirit-Filled Life

"From the beginning God chose you to be saved through the sanctifying work of the Spirit." (2 Thessalonians 2:13, NIV)

"You, however, are controlled not by the sinful nature but by the Spirit, if the Spirit of God lives in you." (Romans 8:9, NIV)

We believe the only way possible to live the Christian life is by having God's power within us. So we seek to practice a conscious, daily dependence upon God's Spirit. To be filled with Spirit is evidenced not only by the gifts of the Spirit (1 Corinthians 12 & 14) by also by the fruit of the Spirit (Galatians 5:22-25) and genuine and growing Christ-like character.

We Tell Others about Jesus

"Always be prepared to give an answer to everyone who asks you to give the reason for the hope that you have." (1 Peter 3:15, NIV)

"Go into all the world and preach the good news to all creation." (Mark 16:15, NIV)

It is the responsibility of every Christian to share the good news with those whom God brings us into contact. We practice personal sharing about Christ and inviting friends to church.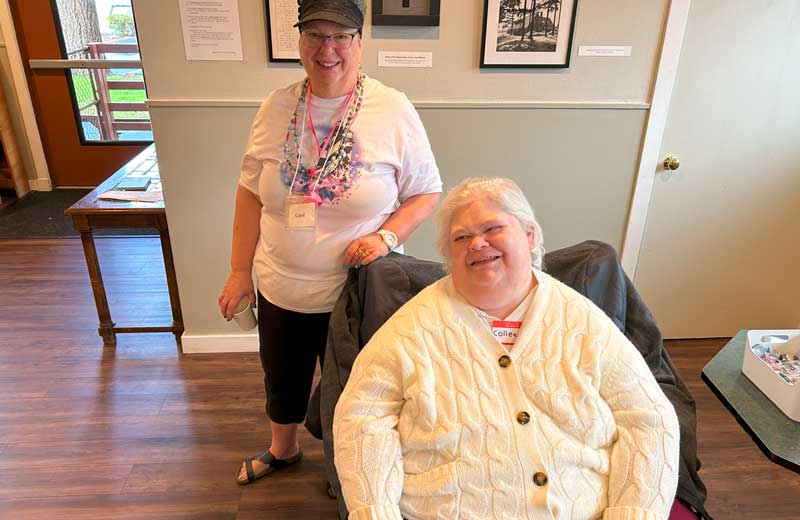 A. Christ-Centered Focus – in all we say and do (Hebrews 12:1-3)
B.  Love – as the foundation of our relationship with God and others (1 Corinthians 13:1-3)
C.  Spirit-Filled Living – in our worship, our daily lives, and our service (Galatians 5:16-17, 22-23)
D. The Centrality of Scripture – as we seek to know God and understand how to live our lives (2 Timothy 3:16-17)
E. Authenticity – with God and with others (Romans 12:9-13)
F. Grace – that transforms our lives and our relationships (Ephesians 2:8-10; 1 Peter 4:10-11)
G. Humility – as a consistent posture with God and others (Zephaniah 2:3; 1 Peter 5:5-7)
A. Engage in corporate worship (Matthew 4:10; John 4:23)
B. Engage in intentional outreach (James 1:27; Mathew 5;14, 16; Ephesians 3:10; Romans 10:13-14)
C. Engage in consistent fellowship (John 13:35; Romans 12:10, 13; Acts 2:42, 46-47; Acts 5:42)
D. Engage in strategic discipleship (Hebrews 6:1; 2 Peter 3:18; Ephesians 4:11-13)
E. Engage in joyful service (Ephesians 4:7, 8, 11-13; 1 Peter 4:10; Matthew 20:25-28)